Bonnie Jean Baby Girl's Holiday Christmas Dress – Red Smocked Corduroy for Baby and Toddler and Little Girls
100% Cotton
Tie closure
Red smocked corduroy Christmas dress with wreaths.
She will be ready for Christmas with this precious red corduroy holiday dress. Featuring beautiful smocking with embroidered green wreaths. Tie back and zippered closure on back. This is a classic timeless design. Sizes 0-24m come with matching diaper cover panty. This outfit is made with the highest quality that Bonnie Jean is known for. 100% Cotton, Machine Washable.
100% Cotton
Tie closure
Red smocked corduroy Christmas dress with wreaths.
Perfect outfit for any holiday or Christmas celebration, pre-school recital, performance or party. Great for matching sisters siblings outfits and family photos, portraits or greeting cards.
Featuring beautiful smocking with embroidered green wreaths. Tie back and zippered closure on back. This is a classic timeless design. Sizes 0-24m come with matching diaper cover panty.
This outfit is made with the highest quality that Bonnie Jean is known for.
Machine Washable in Cold Water. 100% Cotton.
[amz_corss_sell asin="B07ZCD6333″]
Specification:
Bonnie Jean Baby Girl's Holiday Christmas Dress – Red Smocked Corduroy for Baby and Toddler and Little Girls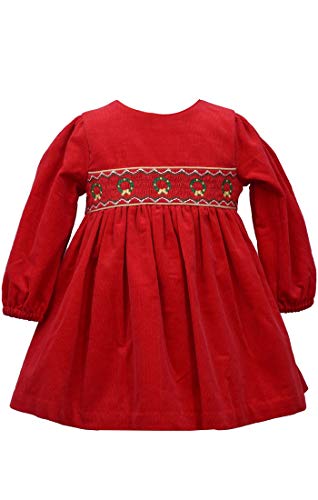 Bonnie Jean Baby Girl's Holiday Christmas Dress – Red Smocked Corduroy for Baby and Toddler and Little Girls